DESCRIPTION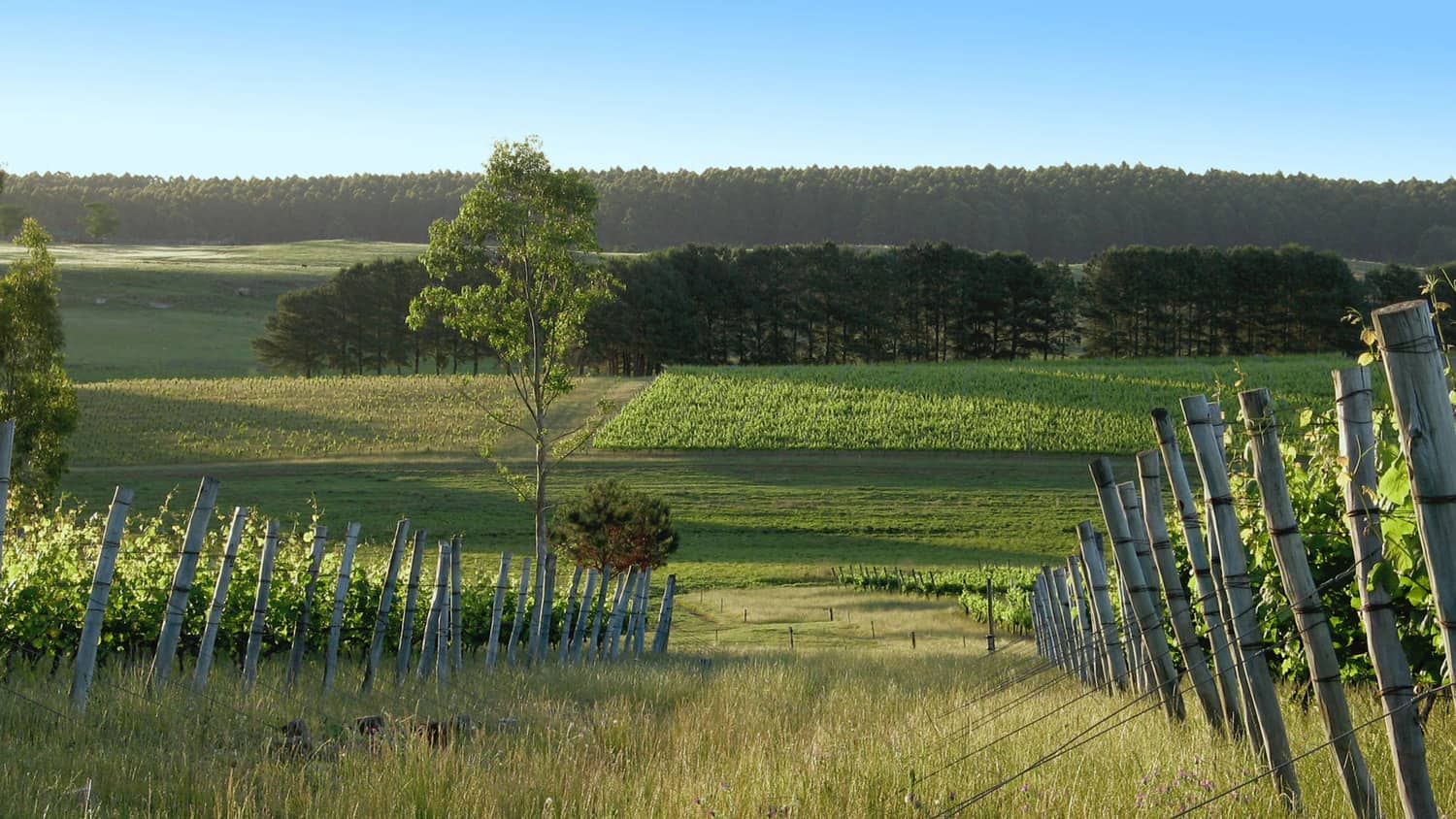 Bodega Cerro Chapeu leads the development of wines exports from Uruguay, the boutique wine country of South America. Cerro Chapeu estates are located in the purest environment according to the environmental sustainability indexes (ESI) of Columbia and Yale Universities.
The winery is run by the 10th generation of the Carrau family, that has maintained sustainable management vineyards since 1752 starting in Catalonia and then in Uruguay in the twentieth century.
The winery is located in Rivera department, at 500 km north from Montevideo just by the border with Brazil. The area was chosen in the mid 70´s in collaboration with UC Davies. Located at 340 meters above sea level and surrounded by flat hills-typical from this region- the area has Sandy deep soils, with relatively low yields and good drainage to avoid humidity excess in the vines.
70% of their vineyards are Tannat. Other varietals include Cabernet Sauvignon, Arinarnoa, Sauvignon Blanc, Pinot Noir and Chardonnay.
The winery was built in 1997 inside a hill to optimize resources and to use gravity to minimize intervention in the winemaking process.
TECHNICAL INFORMATION
| | | | | |
| --- | --- | --- | --- | --- |
| Wines | Grape Varietal | Age of the vines | Nature of soil | Technical Sheets |
| Cerro Chapeu Reserva Sauvignon Blanc "Sur Lie" | 100% Sauvignon blanc | up to 30 years | sandy soil | |
| Cerro Chapeu Reserva Chardonnay | 100% Chardonnay | up to 30 years | sandy soil | |
| 1752 Petit Manseng | 90% Petit Manseng, 10% Viognier | 20 years | clay | |
| Cerro Chapeu Reserva Pinot Noir | 100% Pinot noir | up to 40 years | sandy soil | |
| Cerro Chapeu Reserva Tannat | 100% Tannat | up to 40 years | sandy soil | |
| Vilasar Nebbiolo | 100% Nebbiolo | old vineyard | clay soil | |
| Batovi Tannat T1 | 100% Tannat | up to 40 years | sandy deep red soil | |
| Ysern "Blend of regions" Tannat-Tannat | 100% Tannat (50% Cerro Chapeu y 50% Las violetas) | 20 years | Sandy soil (Cerro Chapeu) and clay soil (Las Violetas) | |
| Sparkling | | | | |
| Sust Vintage Brut Nature | 70% Chardonnay y 30% Pinot Noir | | sandy soil | |
| | |
| --- | --- |
| COUNTRY | Uruguay |
| REGION | Cerro Chapeu |
| APPELLATION(S) | Cerro Chapeu |
| PRODUCER | Bodega Cerro Chapeu |
| FOUNDED | 1975 |
| SIZE OF THE VINEYARD | 74 acres |
| ANNUAL PRODUCTION | 250000 litles |
| FARMING | sustainable |
| WEBSITE | www.cerrochapeu.com |
MAP
Labels