DESCRIPTION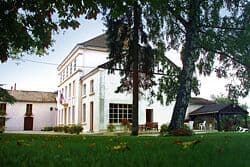 Ployez-Jacquemart is a family House created in 1930 by Marcel Ployez and his wife Yvonne Jacquemart.
The whole essence of Ployez-Jacquemart rests in our continual search for excellence and our remarkable abilities to make truly fine wines. These skills have been passed down through three generations. Deep-seated pride in our product and heritage are the cornerstones of our traditional approach to champagne production.
Enjoying Ployez-Jacquemart means to share a passion for superlative wines aimed at those who appreciate the very best that life has to offer. Ployez-Jacquemart is found on the wine lists of gourmet restaurants in France and around the globe, clear testament to our consistent pursuit of perfection
Strict rules are followed each year to ensure that the very best is made of each harvest. Our mission is to leave the structure of each wine intact, letting the true character and personality of the harvest shine through.
We work our own predominantly Pinot Noir and Pinot Meunier vineyards in the Premier and Grands Crus villages of Ludes and Mailly Champagne. Tremendous care is taken whilst working these vines by hand. Long standing relationships with other wine growers, primarily in the Grands Crus Chardonnay villages helps us improve our "assemblage" and ensure consistency year on year.
TECHNICAL INFORMATION
| | | | | | |
| --- | --- | --- | --- | --- | --- |
| Champagne | Grape Varietal | Age of the vines | Nature of soil | Dosage | Thecnical Sheet |
| Extra Quality Brut | 39%Chardonnay,              39%Pinot Meunier, 22%Pinot Noir | between 10 and 65 years old | clay,  limestone | 5.20 gr/l | |
| Extra Brut Passion | 44% Pinot Noir,        38%Chardonnay,           18%Pinot Meunier | between 10 and 65 years old | clay,  limestone | 3.35 gr/l | |
| Extra Quality Dosage Zero | 48%Chardonnay,              26%Pinot Noir,            26%Pinot Meunier | between 10 and 65 years old | clay,  limestone | 0 gr/l | |
| Extra Brut Rosé | 50%Chardonnay,           37%Pinot Noir,            13%Meunier | between 10 and 65 years old | clay,  limestone | 3.65 gr/l | |
| Extra Brut Vintage Blanc de Blancs 2008 | 100%Chardonnay | between 10 and 65 years old | clay,  limestone | 2.90 gr/l | |
| Cuvee Granite | 61% of Chardonnay,31% Pinot Noir, 8% Meunier | between 10 and 65 years old | clay,  limestone | 4,75 g/L | |
| Cuvée Liesse d'Harbonville 2004 | 66%Chardonnay,    17%Pinot Noir,               17% Pinot Meunier | between 10 and 65 years old | clay,  limestone | 3 gr/l | |
| | |
| --- | --- |
| COUNTRY | France |
| REGION | Champagne |
| APPELLATION(S) | Champagne |
| PRODUCER | Champagne Ployez-Jacquemart |
| FOUNDED | 1930 |
| SIZE OF THE VINEYARD | 32.12 acres |
| ANNUAL PRODUCTION | 100.000 bottles |
| FARMING | sustainable |
| WEBSITE | www.ployez-jacquemart.fr |
MAP
Labels