DESCRIPTION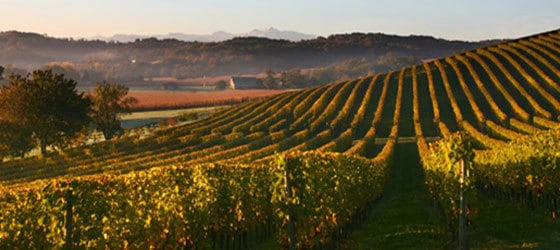 Between Biarritz and Lourdes, facing the Pyrenees in heart of Bearn, Henri Ramonteu produces dry and sweet white wines from an exceptional terroir, the land of Domaine Cauhape.
The wines of Jurançon with their fruity, complex aroma and elegant golden colour, will assuredly enchant lovers of fine, signature wines.
The vineyard covers 42 hectares. The vines are planted on the steep hillsides. With a south, south-east exposure and differing altitude between the parcels of vines (the highest 400m) the vines benefit from optimum climatic conditions.
We cultivate five local grape-varieties. Petit Manseng contributes to the making of great sweet wines and equally to great dry wines. Gros Manseng and Courbu bring finesse and fruit. Camaralet and Lauzet are ancient varieties that we are reintroducing little by little to give birth to a new generation of dry Jurançon wines.
Domaine Cauhapé combines a beautiful alchemy, a history of love and passion for the vines that we garden, with the raisins that we press, with the juice that we guide through fermentation, with the barrels that we age attentively and with the bottles we dress. Depending on the year, 8 or 9 wines are created with passion
TECHNICAL INFORMATION
Wine
Grape Varietal
Age of the vines
Nature of soil
Technical Sheet
Chant des Vignes
60% Gros Manseng,      40% Camaralet
10 years
Siliceous, clay  soil
Quest
50% Gros Manseng,
50%  Petit Manseng
10 years
Siliceous, clay  soil
Seve d'Automne
70% Gros Manseng,
30%  Petit Manseng
15 to 20 years
Siliceous, clay  soil
Ballet d'Octobre
70% Gros Manseng,
30%  Petit Manseng
15 to 20 years
Siliceous, clay  soil
Symphonie de Novembre
100%  Petit Manseng
20 years
Siliceous, clay  soil
| | |
| --- | --- |
| COUNTRY | France |
| REGION | South West |
| APPELLATION(S) | Jurançon |
| PRODUCER | Domaine Cauhapé. |
| FOUNDED | Henri Ramonteu bought the property in 1980 |
| SIZE OF THE VINEYARD | 103 acres |
| ANNUAL PRODUCTION | |
| FARMING | sustainable |
| WEBSITE | https://jurancon-cauhape.com/fr/ |
Labels