DESCRIPTION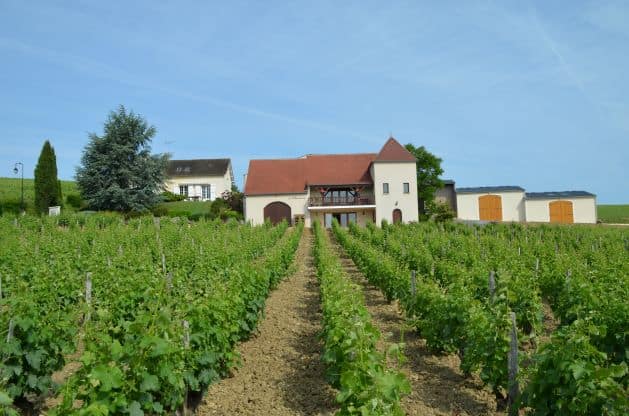 Wine runs through the veins of the Reverdy family. For four generations, it has remained inspired by the same values: a hereditary attachment to the Loire Valley, an instinctive passion for the terroirs and an innate respect for people and work.
Passion, integrity and accuracy are the key words that drive the members of the domain. Today, Jean-Marie REVERDY, guided by his vocation, makes the estate prosper with his wife Catherine and his two sons, Guillaume and Baptiste. The cellars are located in the middle of the vines. This unique location offers a breathtaking view of the famous hill of SANCERRE and its vineyard.
Spread over a mosaic of 80 plots, the vineyard is planted with 85% Sauvignon Blanc and 15% Pinot Noir. This distribution allows the vines to express themselves fully on soils of marl "Terres Blanches", limestone "Caillottes" and flint. In sustainable cultivation for several years, the estate has been certified High Environmental Value Level 3 since 2020. Their approach, a combination of authenticity and modernity, is constantly moving towards an ever more sustainable and eco-friendly type of viticulture.
TECHNICAL INFORMATION
| | | | | |
| --- | --- | --- | --- | --- |
| Wine | Grape Varietal | Age of the vines | Nature of soil | Technical Sheet |
| Charme de Loire IGP Val de Loire | 100% Sauvignon | 30 years | Clay-fint | |
| La Villaudiere            Sancerre Blanc | 100% Sauvignon | 40 years | Clay-limestone | |
| Le Paradis               Sancerre Blanc | 100% Sauvignon | 60 years |  limestone | |
| Terres Blanches Sancerre Blanc | 100% Sauvignon | 35 years | Clay-limestone | |
| Silex             Sancerre Blanc | 100% Sauvignon | 40 years | Clay-flint | |
| | |
| --- | --- |
| COUNTRY | France |
| REGION | Loire Valley |
| APPELLATION(S) | Sancerre - IGP Val de Loire |
| PRODUCER | Domaine de la Villaudiere |
| FOUNDED | Wine Grower for three generations |
| SIZE OF THE VINEYARD | 94 acres |
| ANNUAL PRODUCTION | around 450 000 bottles |
| FARMING | Sustainable and certified HVE Level 3 in 2020 |
| WEBSITE | https://lavillaudiere.com/ |
MAP
Labels