DESCRIPTION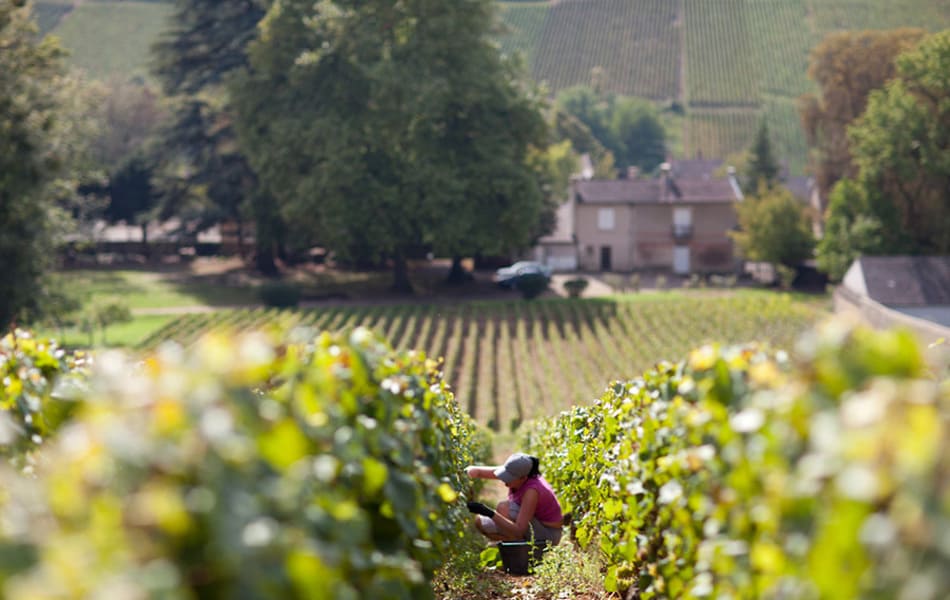 Domaine Dubreuil-Fontaine, located in the Côte de Beaune, near Pernand-Vergelesses, is a family wine business in Burgundy.
In 1879, foundation of Pierre Arbinet's family estate, which now has 50 acres under the management of Christine Dubreuil, the 5th generation who succeeded to her father Bernard. In 1985 they build a new winery and cellar on three levels.
Domaine Dubreuil-Fontaine uses the noble grape varieties of Chardonnay and Pinot noir to make up its wide range of 22 appellations : starting from the fruty Bourgogne, to the lively village, from the prestigious Premier cru to the rare Grand Cru. Its vineyards cover the villages of: Pernand -Vergelesses, Aloxe-Corton and Savigny Les Beaune, Pommard, Beaune and Volnay.
They used cultivating methods are environmentally friendly; the goal is to produce a rich and healthy harvest whilst ensuring the sustainability of our soils. The wines are a full expression of the Burgundian terroir.
TECHNICAL INFORMATION
| | | | | |
| --- | --- | --- | --- | --- |
| Wine | Grape Varietal | Age of the vines | Nature of soil | Technical Sheet |
| Bourgogne Aligoté | Aligote | 30 years | Limestone and Clay | |
| Bourgogne Chardonnay | Chardonnay | 20 years | Limestone and Clay | |
| Pernand Vergelesses "Village" | Chardonnay | 30 years | Limestone and Clay | |
| Pernand Vergelesses "Sous Fretille" 1er Cru | Chardonnay | 15 years | Limestone and Clay | |
| Pernand Vergelesses "Clos Berthet" 1er Cru Monopole | Chardonnay | 30 years | Limestone and Clay | |
| Corton Charlemagne Grand Cru | Chardonnay | 35 years | Limestone and Clay | |
| Bourgogne "Notre-Dame de Bonne Esperance" | Pinot Noir | 35 years | Limestone and Clay | |
| Savigny Les Vergelesses 1er Cru | Pinot Noir | 35 years | Limestone and Clay | |
| Beaune "Montrevenots" 1er Cru | Pinot Noir | 30 years | Limestone and Clay | |
| Pommard | Pinot Noir | 42 years | Limestone and Clay | |
| Pommard "Epenots" 1er Cru | Pinot Noir | 35 years | Limestone and Clay | |
| Aloxe Corton "Les Vercots" 1er cru | Pinot Noir | 30 years | Limestone and Clay | |
| Pernand-Vergelesses 1er Cru Ile des Vergelesses | Pinot Noir | 30 years | Limestone and Clay | |
| Corton Bressandes Grand Cru | Pinot Noir | 35 years | Limestone and Clay | |
| Corton "Clos du Roi" Grand Cru | Pinot Noir | 35 years | Limestone and Clay | |
| | |
| --- | --- |
| COUNTRY | France |
| REGION | Burgundy |
| APPELLATION(S) | 22 appellations (Bourgogne, Pernand Vergelesses, Aloxe-Corton and Savigny Les Beaune, Pommard, etc) |
| PRODUCER | Domaine Dubreuil-Fontaine |
| FOUNDED | 1879 |
| SIZE OF THE VINEYARD | 50 acres |
| ANNUAL PRODUCTION | |
| FARMING | |
| WEBSITE | www.dubreuil-fontaine.com |
MAP
Labels