DESCRIPTION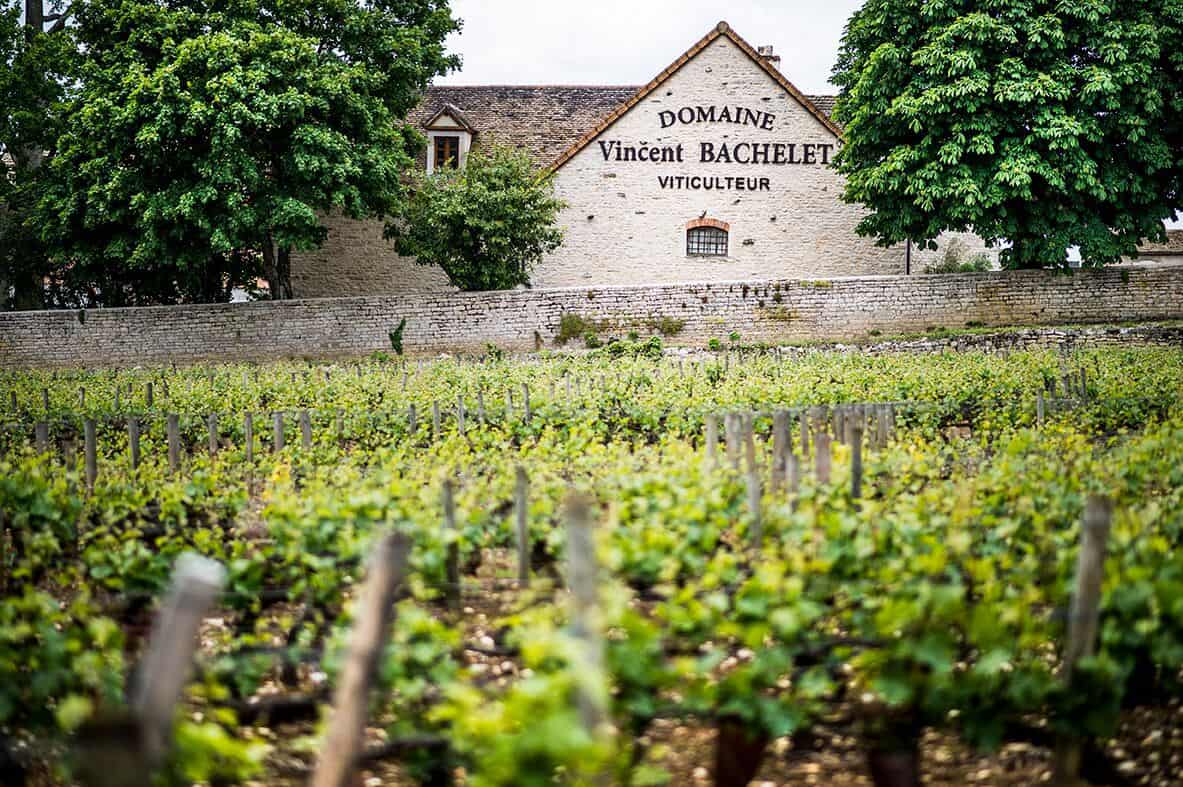 Originate from the Maranges, Vincent Bachelet began making wine alongside his father Bernard. He started to work on his own separate estate in 2008 in a place along the famous Route des  Grands vins, in the very heart of  Chassagne-Montrachet. For 3 generations, wine-making and vine-growing take part in Bachelet's family. For 2 years, Vincent has been working with his daughter Aurore, and in a few years Etienne, his youngest son, will join the team.
This family's estate has approximately 17 ha. The plots are fragmented and extend from Maranges, in the Cote de Beaune, to Gevrey-Chambertin, in the Cote de Nuits.
Aware of the preciousness and diversity of each plot, Vincent endeavors to reduce the winemaking process to essential: reveal the nature of perfect grapes. He focuses on respecting the unique identity of each parcel. Wines are produced to enhance all the elegance of Chardonnay, and richness of Pinot Noir. He does his best to take the same care and the same attention to each wine. All of his wines age in oak casks in his vaulted cellar, one of the most amazing of  its kind in Burgundy.
Vincent has a large range mainly composed of red wines (70%). His objective is to obtain the wines that offer the best expression of their Terroir.
TECHNICAL INFORMATION
| | | | | |
| --- | --- | --- | --- | --- |
| Wines | Grape Varietal | Age of the vines | Nature of soil | Technical Sheet |
| Bourgogne Chardonnay | 100% Chardonnay | 25 years | Clay-limestone | |
| Meursault "Le Clos du Cromin" | 100% Chardonnay | 45 years | Clay-limestone | |
| Chassagne Montrachet | 100% Chardonnay | 30 years | Clay-limestone | |
| Bourgogne Pinot Noir | 100% Pinot Noir | 40 years | clay-limestone | |
| Bourgogne Hautes Cotes de Beaune Vieilles Vignes | 100% Pinot Noir | 35 years | clay-limestone | |
| Cotes de Beaune Village | 100% Pinot Noir | 40 years | clay-limestone | |
| Maranges 1er Cru "La Fussiere" Vieilles Vignes | 100% Pinot Noir | 60 years | clay-limestone | |
| Chassagne Montrachet "Les Benoites" | 100% Pinot Noir | 50 years | clay-limestone | |
| | |
| --- | --- |
| COUNTRY | France |
| REGION | Burgundy |
| APPELLATION(S) | Bourgogne, Meursault, Chassagne-Montrachet, Cotes de Beaune, Maranges 1er Cru (others : Santenay, Saint-Aubin 1er cru, Puligny, Pommard, Gevrey) |
| PRODUCER | Domaine Vincent Bachelet |
| FOUNDED | 2008 |
| SIZE OF THE VINEYARD | 42 acres |
| ANNUAL PRODUCTION | 6.000 cases of 12 bottles |
| FARMING | |
| WEBSITE | www.vincent-bachelet.com |
MAP
Labels